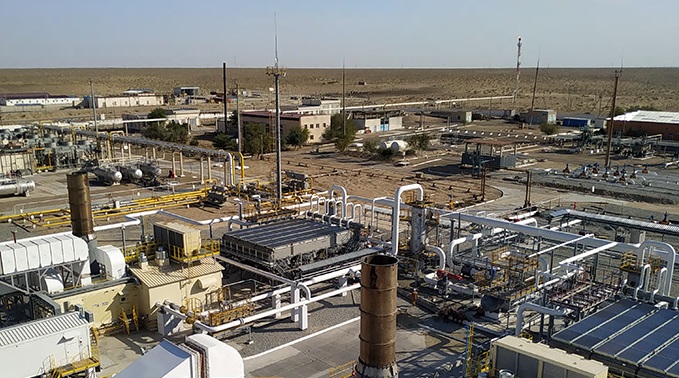 Enter Engineering PTE. Ltd completed turnkey construction and commissioning of Further Development of Samantepe Field with Expansion of Booster Compressor Station (BCS) at South Urtabulak Field (with Samantepe Field). The facility is located in Mirishkar district of Kashkadaria region. The nearest population and industrial center is Mubarek.
The works have been performed under trilateral agreement between Uzneftegazdobycha JSC, Natural Gas-Stream JV LLC and Enter Engineering company in pursuance of the program to increase hydrocarbon production for 2017–2021 in accordance with the decrees of the President of the Republic of Uzbekistan No. PP-2822 dated March 9, 2017 and No. PP-3373 dated November 3, 2017.
General Designer of the facility was UzLITI Engineering design institute.
On August 28th and September 18th, the compressor station at Samantepe field was commissioned with two start-up complexes. Construction of this facility was commenced in March 2018. Over 600 employees and 80 construction machinery units were mobilized in the peak period to deliver the project.
The gas compression is performed by two centrifugal compressor units manufactured by General Electric Oil & Gas Thermodyn (France) equipped with Taurus 70 MD gas turbine engines manufactured by Solar Turbines (USA), with a unit capacity of 8 MW and throughput of 9 MCMPD per unit.
Commissioning of this facility will additionally increase production of sour gas in the design volume of 3 BCMPA with its treatment and further transportation to the Mubarek CPP for processing.